Description
High quality, compact and cute design, the Nitecore charger Q4 is able to independently charge four Li-ion batteries, each up to 1A! It also features an optimized battery charging system for IMR batteries that monitors the entire charging process and ensures that the voltage is always within a safe range, helping to extend the battery life.

The charging process itself is very simple, you just need to put batteries in the slots and the charger will take care of everything else. It starts battery diagnostics, selects the optimal charging current for the inserted battery type, and starts charging. The LED indicators tell you about the status.


Package contents and parameters
1x Nitecore Q4
1x power cable

Package contents may change.

Input: DC 12V 2000mA / 24W
Output: 4,2V ± 1% / 2A*2 / 1A*4
Dimensions: 125.4mm x 95.6mm x 36.2mm
Weight: 150.3g
Compatible with the Li-ion / IMR: 10340, 10350, 10440, 10500, 12340, 12500, 12650, 13450, 13500, 13650, 14350, 14430, 14500, 14650, 16500, 16340 ( RCR 123 ), 16650, 17350, 17500, 17650, 17670, 17700, 18350, 18490, 18500, 18650, 18700, 22500, 22650, 25500, 26500, 26650, 26700, 20700, 21700, 22700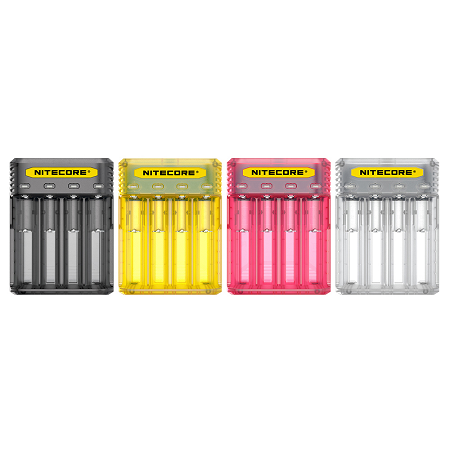 Charging current
Batteries are charged in four independent slots, each charges with up to 1A. Two batteries can be charged up to 2A.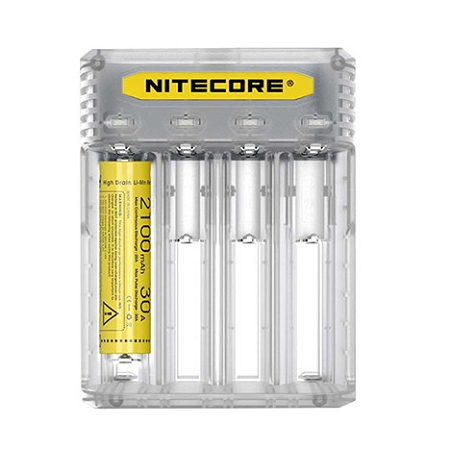 Active current distribution
ACD technology enables automatic and smart distribution of the charging current. This ensures that the batteries are charged evenly and optimally.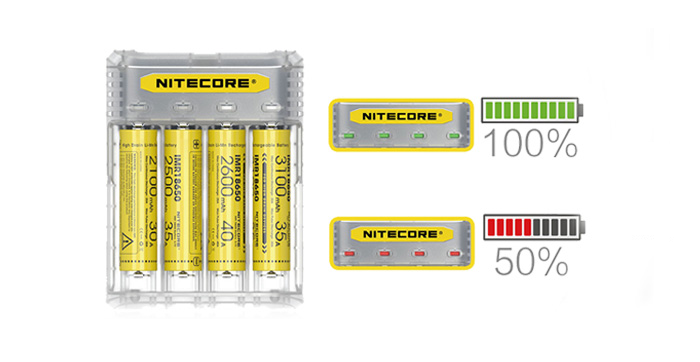 Protections
The Nitecore Q4 has a range of protection functions, including maximum charging time and reversed polarity protection. It is also made of fireproof materials.